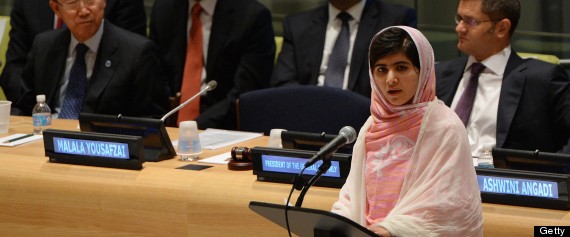 Malala on Malala Day Malalat at the United Nations Reporter News
താലിബാന്റെ ആക്രമണത്തിന് ഇരയായ മലാല യൂസഫ്‌സായ് യുഎൻ പൊതുസഭയെ അഭിസംബോധന ചെയ്തു. പേനക്കും പുസ്തകത്തിനും വാളിനേക്കാള്‍ ശക്തിയുണ്ടെന്ന് പറഞ്ഞ മലാല, സ്ത്രീകളുടെ ശബ്ദം ഉയരുന്നതിനെ താലിബാൻ ഭയപ്പെടുകയാണെന്നും അഭിപ്രായപ്പെട്ടു.
A Pakistani teenager nearly killed by Taliban gunmen for advocating that all girls should have the right to go to school gave her first formal public remarks Friday at the United Nations. It also happened to be
Malala Yousafzai's
16th birthday.
Tag: Malala Day UN, Malala Yousafzai, Girl Shot By Taliban, Global Motherhood, Malala At Un, Malala Birthday, Malala Day, Malala Education, Malala Right To Education, Malala Shot, Malala Speech, Malala Un Speech, Top Stories, Impact News, Reporter News,